Hydra Set Wireless Remote Control System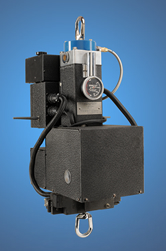 The Wireless Remote Control System permits the Hydra Set to be controlled from a position up to 1,000 feet (305 meters) from the device. It contains all the electronics, motors and radio transceivers for controlling precise load movement.
Load Controller mounted on the Load Positioner, the Load Controller raises or lowers a load in response to commands transmitted from the operators Hand-Held Unit.
---
Positive Fluid Retention System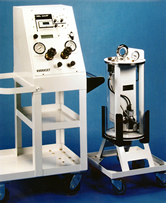 Positive Fluid Retention System (PFRS)
Some Hydra Set models may be configured to ensure positive retention of fluids via encapsulation and pressurization of the unit. Combined with a remote control console (pictured here), the PFRS is used in cleanroom environments to protect spacecraft or other critical components from contaminations.
Models / Technical Specifications
Download Brochure | Download General Specification Hydra Set with Load Cell

General Specification Overview
Model
Capacity
Overall Length Retracted
O-LC
1/2 ton
453.6 kg
25.2 in
64.0 cm
A-LC
1 ton
907.2 kg
29.5
74.9 cm
B-LC
2 1/2 ton
2,268.0 kg
29.5 in
74.9 cm
C-LC
5 ton
4,535.9 kg
31.7 in
80.5 cm
D-LC
10 ton
9,071.9 kg
36.0 in
91.4 cm
E-LC
20 ton
18,143.7 kg
46.1 in
117.1 cm
ES-LC
25 ton
22,679.6 kg
46.1 in
117.1 cm
F-LC
50 ton
45,359.2 kg
55.8 in
141.7 cm
FS-LC
55 ton
49,896.0 kg
55.8 in
141.7 cm
DHS-75
75 ton
68,038.9 kg
78.5 in
199.4 cm
DHS-150
150 ton
136,077.7 kg
90.4 in
229.6 cm
DHS-250
250 ton
226,796.2 kg
100.1 in
254.3 cm
DHS-300
300 ton
272,400.0 kg
100.1 in
254.3 cm
Standard models (O through D) are furnished with an eye-type upper connector and a \\'D\\'-shaped lower connector. Standard models E, ES, F and FS are furnished with \\'D\\'-shaped upper/lower connectors. Standard DHS models (75 through 300-ton) are furnished with shackle-type connector and safety hook lower connector.

Please note: Hydra Set Precision Load Positioners are available with special eyes, hooks, connectors, longer or shorter stroke lengths and other variables. Ask us about special requirements.
How Hydra Set Works